Attention all popcorn lovers and movie buffs! As part of our fantastic new partnership with Celebration Cinema, we have a smashing offer for you! Starting May 1st, when you purchase a Celebration Cinema Popcorn Promo Bucket , you'll receive a coupon for a FREE Popcorn Seasoning coupon for smashseasonings.com. It's our way of saying thank you for your support and giving you the chance to take your movie snacks to the next level!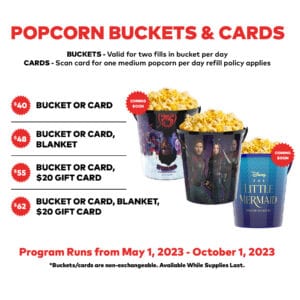 How to Get Your Free Popcorn Seasoning:
It's simple! Just head to any of the 11 Celebration Cinema locations across Michigan and purchase a Popcorn Bucket. Inside, you'll find a special coupon for a free popcorn seasoning with purchase from SmashSeasonings.com . This is the perfect opportunity to try out our amazing flavors like White Cheddar, Beer Cheese, Caramel Cheddar, Ranch, and our ten other low-sodium options. Trust us, your taste buds will thank you!
Why You Should Get the Celebration Cinema Popcorn Bucket: Two popcorn bucket refills per day and free popcorn seasoning coupon, need I say more? Depending on the popcorn bucket package purchased, you get a lot more. Most importantly  you're supporting two local Michigan businesses who are committed to enhancing your movie-going experience.
Don't Forget to Visit SmashSeasonings.com
Once you've enjoyed our popcorn seasonings at Celebration Cinema, we know you'll want more. Be sure to visit our website at smashseasonings.com to redeem your coupon and explore our full range of mouth-watering flavors. With so many options to choose from, you'll be able to find the perfect seasoning to satisfy your cravings.
Spread the Word
We encourage you to share this fantastic offer with your friends and family so that they, too, can enjoy the ultimate popcorn experience at Celebration Cinema. The more the merrier!
Stay Connected
Don't forget to follow Smash Seasonings and Celebration Cinema on social media for the latest news, promotions, and updates. This exciting partnership is just the beginning, and we can't wait to bring you even more amazing offers and experiences in the future.
Thank you for your continued support, and we'll see you at the movies with a bucket full of popcorn and a flavor explosion from Smash Seasonings!