Spice Up Your Plate with Cajun Shrimp Deviled Eggs: A Smash Seasonings Original Recipe
There's something timeless about deviled eggs. These bite-sized delights have been a party favorite for generations. But what if we told you that there's a way to elevate them even further? Enter our "Cajun Seasoning," the star player from Smash Seasonings. Paired with succulent shrimp, this recipe promises a culinary adventure you won't soon forget.
Why Cajun Shrimp Deviled Eggs?
The rich tapestry of flavors that make up Cajun cuisine is nothing short of legendary. Think vibrant, spicy, and with a depth that keeps you coming back for more. That's what our Cajun Seasoning brings to the table. By melding the creamy allure of deviled eggs with shrimp spiced with our unique Cajun blend, we offer a taste of Louisiana in every bite.
Every bottle of Smash Seasonings' Cajun Seasoning is a blend of tradition and innovation. We've captured the essence of authentic Cajun flavors, ensuring each pinch adds vibrancy to your dishes. While it's perfect for seafood, poultry, and meats, its magic truly shines in this deviled eggs recipe.
Cooking Tips
Before diving into the recipe, here are some tips to make sure your deviled eggs are the talk of the party:
**Quality Matters:** Use fresh shrimp. If you're resorting to frozen ones, ensure they're completely thawed.
**Season Right:** With our Cajun Seasoning, a little goes a long way. However, for this dish, don't be afraid to season generously. Remember, you can always adjust according to your palate!
**Presentation:** For that gourmet touch, use a piping bag to fill the egg whites. No piping bag? A ziplock with the corner snipped off works wonders too!
 The Recipe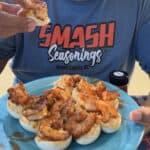 Print Recipe
Cajun Shrimp Deviled Eggs
Deviled eggs have an enduring charm that spans generations. These small wonders have always been the life of the party. But imagine taking them a notch higher? Introducing the "Cajun Seasoning" from Smash Seasonings. When combined with juicy shrimp, this recipe offers a journey that's truly unforgettable.
Servings:
18
Deviled Eggs
Ingredients
9

hard-boiled eggs, peeled

1/3

cup

mayonnaise

1/3

cup

sweet relish

2

tsp

yellow mustard

1/4

tsp

salt

1/4

tsp

ground pepper

1/4

tsp

Cajun seasoning, plus more for sprinkling

18

shrimp, peeled and deveined

2

tbsp

butter

2

tbsp

Cajun seasoning
Instructions
Cut each egg in half lengthwise. Remove the yolks and transfer to a medium bowl. Set the egg whites aside on a serving platter.

Mash yolks with a fork. Stir in mayonnaise, relish, mustard, salt, pepper and Cajun seasoning. Scoop equal parts of this mixture into each of the egg whites. Sprinkle Cajun seasoning on each deviled egg. Cover and refrigerate with you prepare shrimp.

Give the shrimp a quick rinse in a colander under running water, then drain. Pat the shrimp dry with paper towel, then transfer to a medium bowl. Sprinkle with the Cajun seasoning and toss to coat.

Melt the butter in a large skillet or on a griddle. Heat the butter until it starts to shimmer.

Add the shrimp in a single layer and cook for 45-60 seconds. Flip and cook until the shrimp are pink and cooked through. Cooking time will differ depending on how big your shrimp are. Remove the shrimp from the heat and set aside.

When ready to serve, top each deviled egg with 1 shrimp.
Video
Nutrition
Serving:
2
g
|
Calories:
95
kcal
|
Carbohydrates:
2
g
|
Protein:
5
g
|
Fat:
7
g
|
Saturated Fat:
2
g
|
Polyunsaturated Fat:
2
g
|
Monounsaturated Fat:
2
g
|
Trans Fat:
0.1
g
|
Cholesterol:
114
mg
|
Sodium:
155
mg
|
Potassium:
79
mg
|
Fiber:
0.4
g
|
Sugar:
2
g
|
Vitamin A:
610
IU
|
Vitamin C:
0.1
mg
|
Calcium:
22
mg
|
Iron:
1
mg
Transforming a classic dish with a zesty twist, our Cajun Shrimp Deviled Eggs are set to become a staple in your culinary repertoire. Whether for a gathering or a personal treat, remember it's the Smash Seasonings' Cajun touch that makes all the difference.
Share your delectable results with us! Tag @SmashSeasonings on your socials and use the hashtag #MadeWithSmash. We eagerly await your masterpieces. Here's to flavors that smash expectations!